What do economics students want for their Bachelor?
Every once in a while, a university must rethink their Bachelor curriculum to better match a new generation of students. However, understanding the needs and desires of those young minds proves to be a complicated task. Rethinking Economics Lausanne and oikos Lausanne conducted a survey of past and current students to evaluate and identify improvement opportunities in the Bachelor in Economics and Bachelor in Management programs of the University of Lausanne.
Overall, the students who answered the survey requested a more sustainable approach of economics/management, more opportunities to apply their skills, a more pronounced link with economic events, and more teaching of alternative theories. This survey was conducted with the aim to be as objective as possible, with the collaboration of the Dean office of HEC Lausanne who helped us find participants and spent time discussing our results for their next curriculum change.
In total, 358 students gave their opinion on the Bachelor curriculum: 65% of those are currently studying in the Bachelor, 28% finished their Bachelor and are currently in their Master's, and 7% fully finished their studies and are currently working. Here are the results:
---
Course content
One thing is for sure: the current Bachelor programs are very much focused on mathematical and statistical methods. While these are important aspects of economics and management, many students felt that it is missing on some important aspects. When asked to chose 3 topics that were missing from their studies, almost half of the respondents asked for more links with economic events, more alternatives economic theories, and a more thorough analysis of the political and social impact of economics.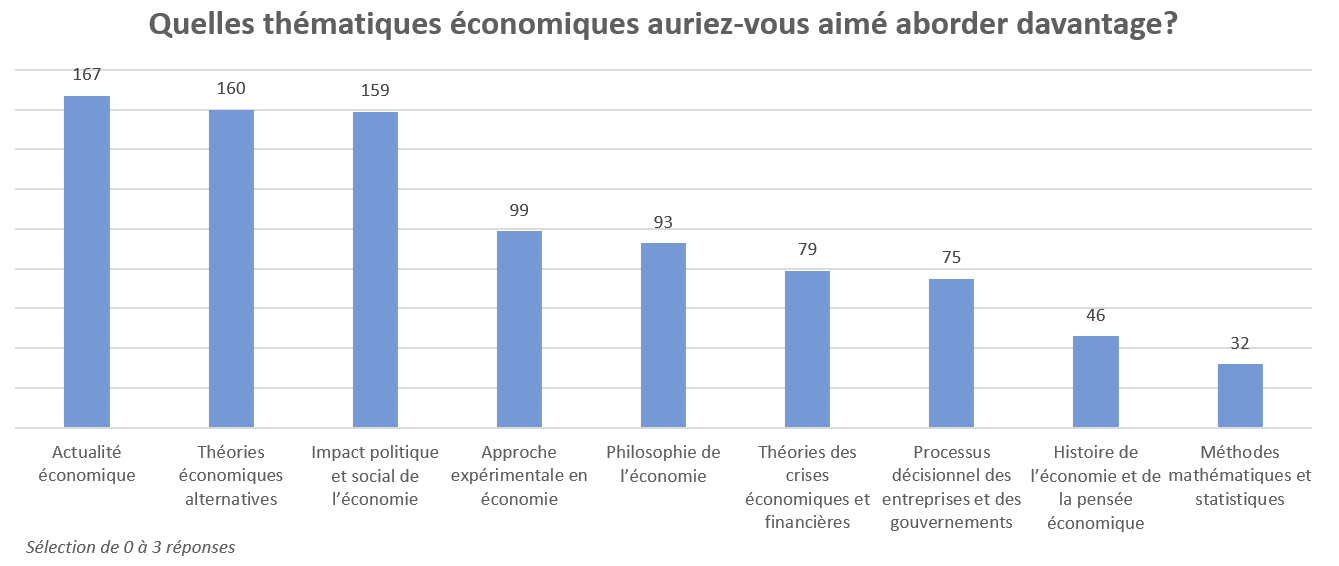 Moreover, 71% of students agree that the course content needed to include topics of sustainability more extensively. More specifically, sustainable development and consumption, corporate social responsibility, and sustainable finance were the most popular topics amongst respondents.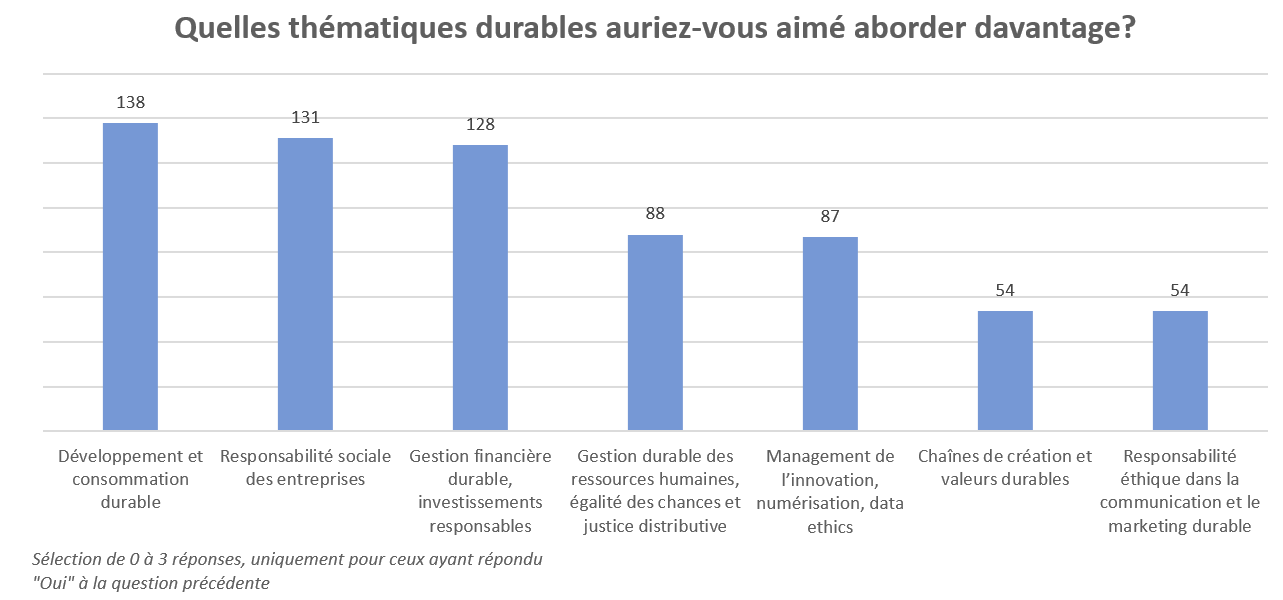 Skills are an important part of a Bachelor curriculum. In particular, critical thinking, understanding of economic events, and data analysis were the most requested abilities that a student should acquire during their studies. For 65% of them, this process should be linked to more interdisciplinarity between economics/management and other faculties. The most popular collaboration opportunities were with EPFL/ETH, political science and social science, and law and public management.
---
Teaching Methods
For many students, Bachelor studies should come with more practical courses, projects, case studies and game-based learning. Evaluation-wise, the average student would like 43% of their studies to be evaluated during the year and 57% to be evaluated by finals. The examination methods were also requested to evolve toward project-based evaluations, research outputs, and oral examinations.
Many students were interested by opportunities to apply what they learned. 86% of respondents were in favour of the opportunity to do an internship during their Bachelor studies, and 77% were in favour of a small Bachelor thesis.
In Lausanne, the language tendency was clearly toward more English-speaking courses. The average respondent would have liked to have half their Bachelor in English, and the other half in French. Indeed, the popularity of English-speaking studies was not reflected in German-speaking and Italian-speaking courses, which most students were not interested in.

---
Bachelor structure
Most students were in favour of 3 Bachelor orientations, with the most popular options being Management, Economics, Banking & Finance, Data Science, and Sustainable Management. More generally, participants requested more small-class courses, more opportunities to apply theories to practical cases, and more interactions with the "real world" (such as guest lecturers). Most students were in favour of a general first year with a specialization in the second and third year (as opposed to the current system in Lausanne where students specialized in the third year). This request has often been accompanied by a desire to have a broader choice of courses, especially in the second year.
---
What do these results mean?
The student preferences continuously change, and the undergraduate curriculum must adapt to them. The results outline how the students' requests for change are aligned with the goals of Rethinking Economics and those of other student organizations such as Oikos, giving confidence in the work we are doing toward a more pluralistic and sustainable approach of economics and management.
In the future, Rethinking Economics Lausanne will continue to work together with our academic stakeholders to include pluralistic considerations in economic research and teaching. At the same time, we will continue to offer public events to disseminate the most recent ideas in pluralist economics to answer the students' request. We are confident that these results can be applied to other universities in Switzerland and that they reflect the evolving concerns of a new generation of economists and managers. One thing is for sure: we are looking forward to seeing how academia will adapt toward these new topics!
---
The full survey report is available in French here: